While most of the stories out of Libya lately are about ISIS gaining ground on the western coast in fighting against the Tripoli-based government, the group came under fire itself today in its initial home city of Derna, when the al-Qaeda linked Mujahadeen Shura Council of Derna attacked them.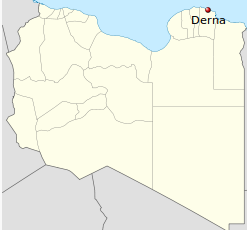 The Mujahadeen have split control over Derna with ISIS for months, but after one of their leaders was gunned down earlier today by masked gunmen, they blamed ISIS and went on the attack, sparking a battle that left 22 dead, 11 on each side.
The Mujahadeen also issued a statement following the attack declaring "holy war" against ISIS and vowing to fight them nationwide "until none of them are left," though the group doesn't appear to have much presence outside of Derna itself, unlike the substantial ISIS affiliate.
Derna was the center of Islamist opposition to the Gadhafi government in Libya for years, and was the center of several groups after Gadhafi's ouster. One of those groups signed on with ISIS, while most of the rest coalesced into the Mujahaheed and forging ties with al-Qaeda.