Dams all along the Euphrates River have become an increasingly important target in the ongoing ISIS war in Iraq. The capture of dams upriver has allowed ISIS to control waterflow into government-held areas downriver. Most recent, they have closed the dams in Ramadi, dramatically cutting water levels further east.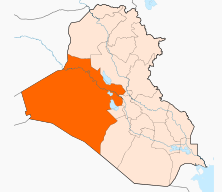 Anbar Provincial Council Chief Sabah Karhout warned that the lower water level to the east, the last part of Anbar that is still government-held, could mean a massive humanitarian crisis across Iraq. He is calling for the US to launch airstrikes on the dam to reopen the water flow.
That's potentially hugely dangerous, not only because Ramadi is a major city of 500,000 people, but because the destruction of the dam is liable to flood parts of the surrounding area, at least temporarily. That's been a long-standing concern in Anbar, as control over the dams has raised the possibility of each side using flooding as a weapon, either offensively or simply as cover for attacks.
The US probably won't launch attacks on the dam, however, as it would undercut Pentagon predictions that the city, and the dam by extension, are going to be retaken in a matter of days.