There are so many ethnic and sectarian cleansing campaigns across Syria these days that it's hard to keep track. Yet the situation around the Kurdish city of Kobani (Ayn al-Arab in Arabic) is heating up, with over 10,000 Sunni Arabs reported to have fled in the face of attacks by the Kurdish YPG.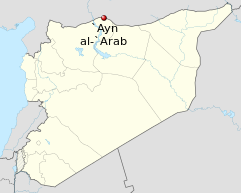 The Syrian Observatory for Human Rights reported the YPG having killed 20 Arabs in the area around Hasakeh, and burned several homes last month. New reports suggest that they are now burning down entire villages in the area by Kobani, trying to ensure it remains under Kurdish control.
There are thousands of tiny villages, some full of Kurds, some full of Arabs, and some with both, all around Kobani, and those villages were the first target when ISIS tried to move into the area and siege the city itself. After ISIS withdrew, the Kurdish forces quickly retook those villages.
With Syria increasingly splintering, the various powers in control of different regions are trying to redraw them around ethnic and religious lines, in hopes of cementing their future control. This is forcing civilians out of their homes nationwide, with internally displaced populations soaring across Syria.