Speaking after a meeting with NATO Secretary-General Jens Stoltenberg, President Obama conceded that the ISIS war required a "rethink" of its strategy.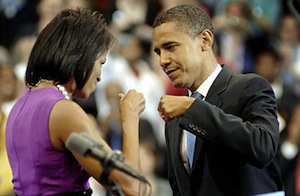 Rethink, of course, means escalation in this context, and Obama talked up increasing the Iraqi military's capabilities after the defeat in Ramadi, along with possibly expanding the war into Libya.
Obama also hyped the rush shipment of anti-tank weapons to Iraqi forces last week, saying that proved the US was listening to the Iraqis on their needs for the war.
White House spokesman Josh Earnest also defended Secretary of Defense Ash Carter's comments over the weekend, blaming the Iraqis for the loss of Ramadi. He claimed Iraqi officials had privately admitted the loss was the fault of their military leadership, and the inability of those leaders to make proper use of all the US had given them.
The White House also praised Iraq's attack on the outskirts of Ramadi today, an offensive backed by both US airstrikes and Shi'ite militia forces. They are predicting imminent victory, but they have often made predictions of ISIS defeats that haven't panned out.