Macedonia is facing a new round of ethnic unrest today, after police reported they had wiped out a group of "ethnic Albanian terrorists" in a Saturday gunbattle that left 22, including eight police, killed.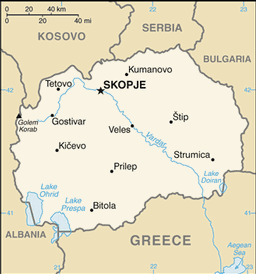 The police arrived in force in an ethnic Albanian neighborhood on Saturday, and seized control after getting into a battle with what they described as a "particularly dangerous terrorist group" made up of former Kosovar rebels.
All told, eight police were killed and 37 others wounded in the day-long battle, and some 20 of the gunmen were captured. Their identities are unclear, but the police claimed several have international arrest warrants.
This is the latest in a series of incidents in Macedonia. Last month, a group of Kosovars seized a police station along the northern border, demanding the creation of an Albanian state inside Macedonia which would grant the ethnic Albanians more rights.
The Macedonian government seems keen to resolve the situation to get its efforts to join the EU and NATO back on track, and is apparently hoping the Saturday battle will be a decisive victory ending the dispute.