After over a month of Saudi warplanes pounding Yemeni cities, the Houthis are firing back against the southern Saudi city of Najran, with a pair of shells having hit the city over the past 24 hours, killing five and wounding 12.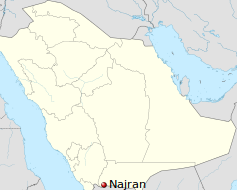 One of the shells killed two civilians in a car, along with two "passers-by" and 11 wounded. The other shell killed a security officer near a prison, and wounded another.
There had previously been some fighting along the border itself between Houthis and the massive Saudi ground force massing at the border, but these shells are the first time the Houthis have struck anything particularly deep inside the country.
Saudi officials apparently did not anticipate this, and are expressing both surprise and outrage at the strikes, vowing a full-scale military response and the destruction of all Houthis in Yemen.