Syria's Foreign Ministry was quoted on the nation's state media today as blaming Turkey in large measure for al-Qaeda's takeover of the border town of Jisr al-Shughour, saying Turkish military forces providing both logistics support and providing "support fire" for advancing Islamists.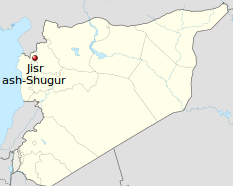 This is not the first time Syria has blamed Turkey for al-Qaeda's recent gains, as they similarly accused Turkey of having orchestrated the offensive which put them in control of the city of Idlib, not far away.
Though Turkey denies the allegations, it is noteworthy that analysts have been crediting the recent al-Qaeda gains to a deal made between Turkey, who is keen to back Islamist factions in Syria, and Saudi Arabia, who has feared Turkey's support would also benefit "subversive" Islamist elements inside the Saudi kingdom itself.
Al-Qaeda's Syrian faction, Jabhat al-Nusra, had comparatively little territory in September, but when the US targeted them in some of their airstrikes, they turned on pro-US rebel factions, and quickly overran them. This, along with recent gains against Syrian government forces in Idlib Province, have allowed them to carve out a considerable statelet in northwest Syria.