Regional economic panic ensued today after a false report that Iran's navy had attacked an American cargo ship in the Strait of Hormuz. Later the reports were clarified, and the ship, the MV Maersk Tigris, was confirmed to be flagged from the Marshall Islands, not the US.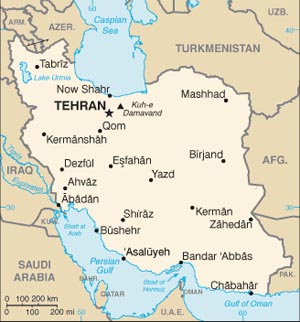 Iran's Revolutionary Guard acted on the basis of a court order to seize the ship, ordering the Maersk Tigris to move further into Iranian waters. When they refused, warning shots were fired, and the ship changed course. It has since been boarded, with officials saying it is being confiscated related to a financial dispute between the owners and the Iranian ports authority. The ship was from Jeddah, Saudi Arabia, and bound for Jebel Ali, in the United Arab Emirates.
The confusion about it being an American ship appears to stem from a minor incident in the same area Friday between Iranian patrol ships and the Maersk Kensington, which is US-flagged. Iranian patrol boats approached the ship briefly, but did not halt its travel, and by Saturday that ship had docked in India.
Not that the US isn't getting involved anyhow. The Marshall Islands ship issued a "distress call" when it was being boarded by Iranian ships, in Iranian waters, and the USS Farragut, a destroyer, has been dispatched off the coast of Iran to "monitor" the situation.
Of course, since the US has been threatening to attack Iran for years now, they've always got ships parked off the Iranian coast in various spots, but the Farragut itself was on anti-piracy duty near Somalia, and is now being sent to Iran in a "show of force."
Details of exactly what the deal was with the Maersk Tigris financial dispute are elusive, though US officials appear to be operating under the assumption that the move was retaliation for the US navy chasing cargo ships away from the Yemeni coast last week.