A January drone strike against a "suspected al-Qaeda compound" in Pakistan has killed at least two innocent hostages, the White House admitted today, identified as American aid worker Dr. Warren Weinstein and Italian aid worker Giovanni Lo Porto.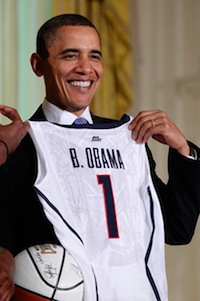 While President Obama expressed a rudimentary level of "regret" in his statement on the killings and said he takes "full responsibility" for them, and spent much of his prepared statement patting himself on the back for his "transparency" on the killings.
It was unclear how long the administration had known about the killings, but other White House officials said they had been "classified" for at least some time, and that today just marked the decision to "declassify" the killings.
Obama said his decision to eventually declassify the matter reflected his desire that the families of the slain hostages "know the truth," though other administration officials defended the killings as "lawful and conducted consistent with our counterterrorism policies."
Officials say their initial intelligence gave them "near certainty" that there were no hostages at the targeted site, and much of the commentary defending the killings on cable news focuses on the idea that this was not a "hostage rescue mission" at any rate.