Iraqi troops have claimed a somewhat significant gain in the Anbar capital of Ramadi, taking the city's Pediatric and Maternity Hospital and the surrounding neighborhood.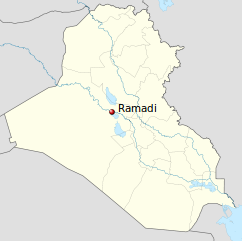 The hospital isn't so much important in and of itself, as the fact that the neighborhood is near one of the city's districts of government offices, most of which have fallen to ISIS in the battle for the city.
Officials credited the gain with an influx of reinforcements from Baghdad, claiming to have killed 12 ISIS fighters in overnight battles. Ramadi, a city of 500,000 people, is just 60 miles from Baghdad.
The US has downplayed the significance of ISIS taking Ramadi, with General Martin Dempsey saying the city is of no value. He has since apologized for the comments, however, after angering the parents of US troops killed in Ramadi during the occupation.