Though the probable composition of a far-right coalition government has not changed, Israeli Prime Minister Benjamin Netanyahu has not made much progress is actually getting the deal completed. President Reuven Rivlin gave him a two week extension, meaning his deadline is now firm at May 6.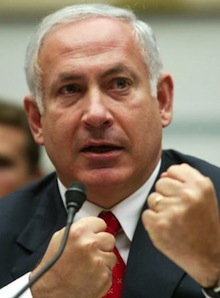 If for some reason Netanyahu cannot get everyone on board by May 6, Rivlin can select any other MP as the next to try. He cannot select Netanyahu again, however.
The March 17 election gave Netanyahu's Likud Party a plurality with 30 seats. They have been trying to get a 67-seat coalition, including Kulanu, Jewish Home, Shas, UTJ, and Yisrael Beiteinu.
The latest reports are that progress has been made with Kulanu, which has leader Moshe Kahlon as incoming finance minister, and both Shas and UTJ are believed to be on board.
Both Jewish Home and Yisrael Beiteinu are holding out, however, with Jewish Home claiming leader Naftali Bennett had been promised the Defense Ministry, and Yisrael Beiteinu also seeking that spot for current Foreign Minister Avigdor Lieberman.
Likud insists they intend to keep the defense portfolio in house, likely with current DM Moshe Ya'alon. They argue that neither Bennett nor Lieberman has enough seats to make such a demand.
Yet without at least Jewish Home, a far-right majority government would be impossible. Likud could get away with ditching Lieberman and going for a 61-seat majority in a 120 seat parliament, but will still have to come to some sort of understanding with Bennett, and would face an extremely weak coalition in that event.
The inability to finalize the current plan has led some in Likud to talk about courting Zionist Union for a centrist coalition, though the Zionist Union leadership has not supported this idea.