The Anbar capital city of Ramadi has been contested for over a year now, with ISIS and the Iraqi military regularly trading small amounts of territory within. Today, ISIS seemed to look to break that stalemate.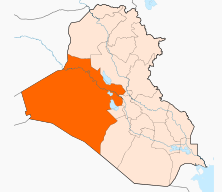 During a surprise offensive and a multi-hour battle, ISIS seized several districts in Ramadi from the Iraqi military, killing at least 10 of the Iraqi troops in the city, and wounding General Qassim al-Muhammadi.
The offensive also involved the ISIS capture of Albu Faraj, a town just north of Ramadi, from which hundreds of civilians were reportedly fleeing by the evening.
Iraqi Army officials complained the Albu Faraj tribal leaders had allowed ISIS into their town, and the adjacent area, trying to blame them for today's losses.
Ramadi and its neighboring city Fallujah were the two first cities ISIS took over, back in January of 2014. They now control most of Anbar, Iraq's largest province.