Continuing his angry railing at the Iran nuclear framework deal, Israeli Prime Minister Benjamin Netanyahu demanded more sanctions against Iran to force them to agree to another, better deal.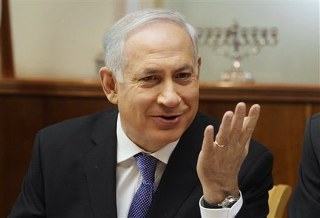 Beyond that, Netanyahu demanded that any final deal with Iran on that nation's civilian nuclear program require Iran to publicly and in a "clear and unambiguous" way endorse Israel's present status.
Iran obviously isn't going to do that, both because of their support for Palestinian statehood and the fact that the nuclear deal has nothing to do with Israel's status as a Jewish-dominated state.
The "Palestinian question" is hugely controversial across the Middle East, and few states in the region would be willing to offer the sort of unqualified endorsement Netanyahu is seeking. Since Israel has threatened to Iran on a weekly basis for decades, they are even less inclined toward public support for Israel.
That Netanyahu even brought up such a silly demand at this stage reflects both his desire to sabotage the talks by imposing unacceptable demands, and an effort to tie the Israeli occupation of Palestine into the situation, in hopes of getting the US and other nations back to their usual passivity over that occupation as a tacit condition for getting the Israeli premier to stop griping about Iran.