After nearly five years held as a prisoner of war by the Afghanistan Taliban, and less than a year after his return to the United States as part of a prisoner exchange, Sgt. Bowe Bergdahl is being charged with "desertion and misbehavior before the enemy."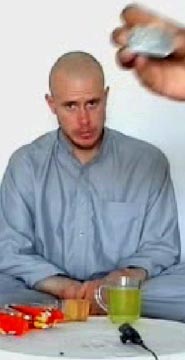 Pentagon officials are being tight-lipped about the details of the charges, which could conceivably carry a maximum penalty of life in prison, but have restarted the massive political dispute over the POW exchange from last year.
The charges center around allegations that Sgt. Bergdahl had left his platoon at a remote outpost and was captured by the Taliban. His lawyer, Eugene Fidell, reported extenuating circumstances.
Exactly what that is remains unclear, though Fidell did say that his motives were pure. The report on which the charge is based concluded Bergdahl had a "specific intent to bring what he thought were disturbing circumstances to the attention of the nearest general officer." Details of exactly what those circumstances were aren't being disclosed.
The Army isn't elaborating either, saying they don't intend to comment on how they decided to bring charges because of an "ongoing investigation."
The desertion charge itself carries at most a five year confinement, and it is the "misbeheavior before the enemy" charge which is the more severe. It is also puzzling, since the Army had already said there was no evidence of any wrongdoing by Bergdahl during his long captivity.
The maximum penalty is probably unlikely, and there has been some speculation of a plea deal in which he might avoid jail time entirely. This may be a politically decided issue, however.
That's because the POW swap was hugely unpopular among hawks, who didn't like the idea of releasing US-held prisoners of war, and started attacking Bergdahl virtually from the minute he was released. These hawks will likely loom large over the military court proceedings going from here.