An unnamed Israeli official quoted by the Times of Israel says it was "no secret" among officials that the White House attempted to influence last week's elections and see Prime Minister Benjamin Netanyahu ousted.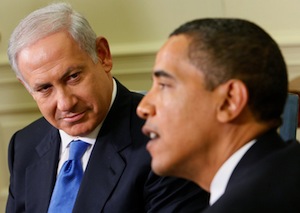 The official said Obama had previously tried to bring down the Netanyahu coalition and failed, and that he was also driven by a quest for revenge after Netanyahu's speech to Congress. He also speculated that Obama was trying to "divert attention from the negoitations with Iran to the Palestinian issue."
Netanyahu openly accused the US and other western countries of trying to sabotage his election campaign in the days leading up to the election, and on the day of the vote claimed foreign powers were responsible for the high turnout among Arab voters.
If anything, however, Netanyahu was the one who made his public split with Obama a campaign issue in the Israeli election, and his last minute campaigning saw a dramatic right-ward shift against the peace process, while insisting his opponents were in league with the Americans.