Over the weekend, no progress was made on the Iraqi invasion of the ISIS-held city of Tikrit, presenting the delay as simply waiting for "reinforcements." Today, officials confirmed the offensive has been halted outright, with no timetable for another attempt at taking the city.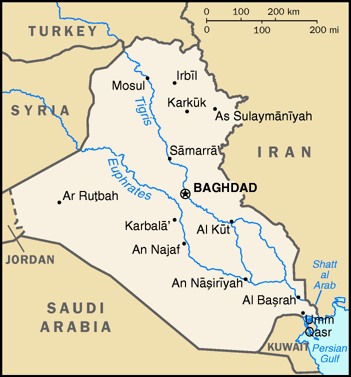 It is the second time Iraq has tried to retake Tikrit from ISIS, the first being in June. On both occasions, Iraqi officials were claiming imminent victory right up to the point where they called the offensive halted.
The Interior Ministry tried to downplay the idea that this was yet another military defeat, insisting the halt was "temporary" and that there would eventually be another offensive against Tikrit.
In what may be a big win for the Pentagon, Iraq's Deputy Defense Minister said he doesn't believe Tikrit can be retaken at all without air support. The Tikrit offensive was done without US coordination, but rather with Iranian artillery.
Other Iraqi officials are trying to revise the goals of the offensive, saying they'd never intended to retake Tikrit in the first place, and were simply trying to seize the surrounding villages, which they did pretty quickly, and without much resistance.
Ultimately, though, if 25,000-plus Iraqi soldiers, backed by Iranian military assets and Shi'ite militias, weren't able to retake Tikrit, recovering bigger cities like Mosul are probably far out of the realm of possibility.