With elections just about a week away, Israeli Foreign Minister Avigdor Lieberman's party has been struggling, and it seems to be impacting his already limited impulse control.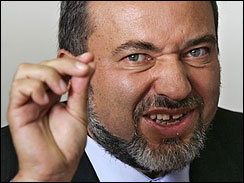 On Sunday, during an election rally in Herzliya, Lieberman was making his usual anti-Arab comments, and went off the rails a bit, calling for disloyal Arabs to be beheaded, saying it was vital for Israel's survival.
Beheading as a campaign platform is controversial, to say the least, and sparked considerable criticism of Lieberman, whose party is already expected to lose a large number of seats amid a corruption scandal.
While the threats were aimed at Israeli Arab citizens, not the Palestinians in the occupied territory, they did lead the Palestinian Authority to issue a statement saying they intend to petition the International Criminal Court (ICC) over the remarks.
Ever one to double-down on bad decisions, and apparently to dramatically overestimate his chances in the upcoming poll, Lieberman threatened the PA too, saying that he will respond to them after the election, when he is appointed defense minister and has control over Israel's military.