Iraqi forces are claiming major progress in the ongoing war with ISIS saying they seized the town of al-Alam, just north of Tikrit, and have made their "final push" into the major Sunni city.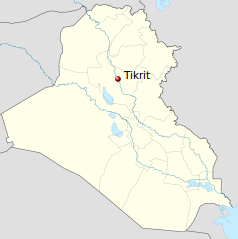 As is pretty much always the case with statements from Iraqi security officials, they say the invasion is going incredibly well, that they are making huge gains in the city and that ISIS is in retreat.
During the three week offensive against Tikrit last summer, Iraqi security forces were similarly touting their progress from day one, and predicting imminent victory throughout, right up until they fled, leaving the city under ISIS control.
This particular offensive is seen as especially important because it is being done entirely without US military backing, as Iraqi officials chose to seek Iranian support in this offensive after a falling-out with the Pentagon over the timing of a Mosul offensive.
US officials have since been expressing concern that if the Tikrit battle goes well, it may increase Iran's influence over the Iraqi government, and convince Iraqi officials that they are a more important ally in the ongoing war.