US officials continue to talk up weapons shipments to retaliate for "ceasefire violations" in the Ukrainian Civil War, but while everyone wasn't paying attention something strange happened, the ceasefire started working.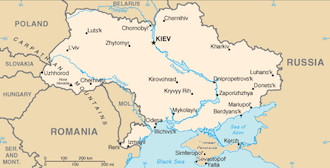 German Foreign Minister Frank-Walter Steinmeier confirmed in comments today that violence has dropped dramatically, and  that there are "not many question marks" remaining on the ceasefire.
Even Ukrainian President Petro Poroshenko is now conceding that the rebels did indeed withdraw their heavy weaponry, as required by the ceasefire, from the frontlines. The Ukrainian military had previously claimed the rebels were lying about the pullback.
Though far-right paramilitaries on the side of the Ukrainian military and some small factions of the rebellion continue to say the ceasefire doesn't apply to them, the ceasefire is clearly holding, and violations are becoming less and less common. There's a palpable opportunity for both sides to reach a settlement now, and less and less excuse not to do so.