On Friday, Iraqi troops reached the small town of Dour, on the outskirts of Tikrit, putting them closer to the city that is their intended target. So far, the offensive even against this town is going painfully slowly.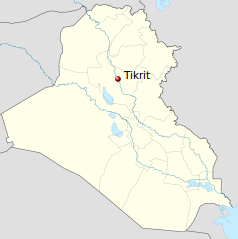 Officials are still reporting "advances" in the fighting, but are only to the center of al-Dour by Sunday evening, while snipers and improvised explosives are keeping the ground troops from making major moves.
The Tikrit offensive is a huge undertaking for the Iraqi military, and it is being done with the aid of both Iranian artillery backing and large amounts of Shi'ite militia fighters.
It is noteworthy, however, that the offensive continues entirely without US involvement. The Pentagon was never sought to provide air support for the attack, likely owing to the US refusal to coordinate with Iran.
The decision between Iranian artillery and US warplanes can't have been an easy one, but recent acrimony between the Iraqi Defense Ministry and the Pentagon over the planned invasion of Mosul, which Pentagon officials first confirmed then cancelled, all without Iraqi input, has clearly rubbed Iraqi officials the wrong way.
Tikrit is no Mosul, of course, but could be seen as a test case for the Iraqis, both of their ability to take significant ISIS targets, and of how much difference Iranian backing is to US backing in the grand scheme of things.