Israeli Prime Minister Benjamin Netanyahu has arrived in the United States today, just days ahead of his planned speech to the US Congress aimed at convincing them to end nuclear negotiations with Iran.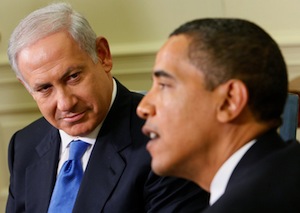 Netanyahu's visit, over the objection of the Obama Administration, has fueled political tensions in both the US and Israel, with bilateral relations a key political issue in a way not seen in decades.
Dozens of Congressional Democrats are planning to boycott the speech, and administration officials have said they won't meet Netanyahu this close to the Israeli election, scheduled for March 17.
In Israel, the opposition is also blasting Netanyahu for risking US ties over Iran diplomacy, and the Israeli election commission is only allowing the speech to be broadcast in Israel on a tape delay, to allow TV stations to filter out any political content the premier may make.
In the past, Israeli leaders going to DC were trying to hype their tremendous level of influence and the strong ties they enjoy with all top officials. Netanyahu, by contrast, will be underscoring the level of influence he's already lost, while hawkish Republicans embrace him primarily as a way to thumb their nose at the administration.