The strategically important Anbar Province town of al-Baghdadi is entirely under ISIS control as of Thursday evening, according to provincial officials who say the last Iraqi troops withdrew from a residential compound in the town.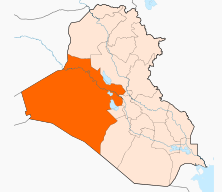 ISIS has controlled much of Baghdadi for awhile, with Iraqi forces occasionally contesting it. The town's value is primarily in its proximity to the Ayn al-Assad air base, where hundreds of US ground troops are deployed.
The US troops are at the base in an "advisory" role, but as ISIS forces have gone closer and closer, it seems they could quickly become involved in direct combat, something the administration had long ruled out.
Various estimates in the Anbar Province has said ISIS controls roughly 80% of the territory. The Sunni-dominated province first began losing territory to ISIS over a year ago, and Iraqi forces have been unable to reverse the momentum so far.