Israeli Prime Minister Benjamin Netanyahu's planned speech to Congress is openly designed to damage US negotiations with Iran, and is increasing tensions between Israel and the Obama Administration.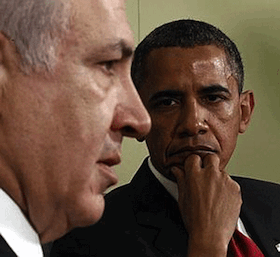 The administration is still trying to figure what to do about it, but is said to be planning potential actions designed to undercut the speech or otherwise damage Netanyahu for giving it.
Among the possibilities was having President Obama give a "rebuttal" speech following Netanyahu's, though officials now say that idea has been discarded in favor of other alternatives.
Obama may give a high-profile interview on struggling US-Israeli relations, administration officials may pack the Sunday news circuit to discuss the problems with the speech, and perhaps most dramatically, top administration officials may boycott the AIPAC conference happening during Netanyahu's visit.
That would be a huge snub, as AIPAC, the public face of the Israel Lobby, is usually a must-visit for US politicians with any real aspirations. For an active administration to publicly boycott the conference would underscore the damage US-Israeli relations have suffered.