Created as part of the State Department by an executive order in 2011, the Center for Strategic Counterterrorism Communications (CSCC) was built to "counter terrorist propaganda in interactive digital environments."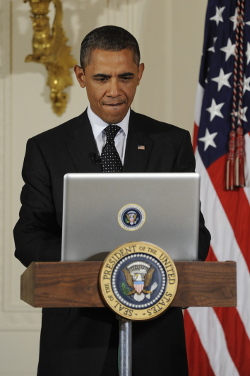 What this has meant in practice is small "digital teams" in a handful of languages posting Tweets about how much they don't like al-Qaeda. Officials are getting more ambitious with the project now, and setting it on ISIS.
According to officials familiar with the situation, the goal now is to expand CSCC so it can coordinate the entirety of "official" anti-ISIS propaganda on social media from US government agencies, foreign allies, and even sympathetic "Muslim community leaders."
Officials see ISIS and its supporters getting more and more popular on social media, and appear to believe they can duplicate this, subsequently blunting ISIS' advantage, if they only centralize the operation enough.
Absent in the consideration of this plan, it seems, is how dreadfully bad large, centralized bodies are at effectively using social media at all, and that having 350 official State Department handles all retweeting one another's carefully coordinated anti-ISIS comments is not the same thing as having an organic surge in interest in a topic.
Worse, by sucking these "community leaders" into this program, especially internationally, they risk painting targets on them as not only sympathetic to the administration's message, but overt collaborators in American propaganda.
ISIS' effectiveness on social media stems from having a large number of followers and sympathizers on the same ideological page. The CSCC program, by contrast, is centered around a committee of State Department bureaucrats deciding what the official US line is, and then sending out marching orders to bureaucrats at a bunch of other departments to try to stay on point. In short, a recipe for disaster.