An Egyptian court today sentenced another 183 supporters of the Muslim Brotherhood to death for their roles in the unrest following the 2013 military coup d'etat.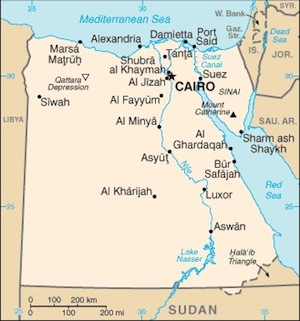 These latest sentences are tacked on to more than 2100 protesters who were already sentenced to death, many in absentia, during assorted show trials in early 2014.
Military ruler Abdel-Fattah El-Sisi insisted that the Muslim Brotherhood is a "major security threat" to Egypt. The brotherhood's political wing was the ruling party in Egypt before Sisi and the military took over.
Since taking over, the junta has used the courts as a weapon against its opponents to extreme levels, sentencing thousands of protesters to death, on top of the massive number killed in crackdowns, and also arresting foreign journalists as "terrorists" for unflattering coverage. In both cases, the junta seems to be losing international credibility, but either doesn't notice or doesn't care.