After the 1994 civil war and annexation by the Saleh government, the last vestiges of South Yemen ceased to exist. Over 20 years later, the region's lingering desire for independence seems to be getting an opportunity to reassert itself.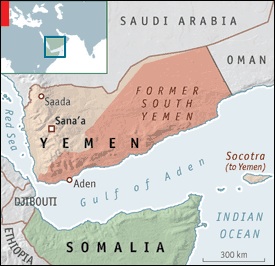 For years, attempts to hold secessionist rallies in the former southern capital of Aden have been met violently by the Sanaa-based government, whether by Saleh or his successor, President Hadi. With Hadi's resignation last week, Sanaa's ability to crush such public expression of opposition is limited, to say the least.
Even the security forces who normally carried out the orders of the governments are now saying they won't be receiving any orders out of Sanaa. It's not a complete shock, there's no one to send such orders, after all.
Yemen seems to be splintering along several fronts now, with the northern Houthi rebels controlling the capital and most of the west coast, while al-Qaeda in the Arabian Peninsula (AQAP) and various tribal factions hold much of the inner territory. Aden and the core of South Yemen, however, seems to be up for grabs.