Israeli officials are continuing to express their usual mix of bewilderment and outrage at the International Criminal Court (ICC) for investigating their assorted war crimes against the Palestinians. The Palestinian Authority, however, seems to be in a bargaining mood.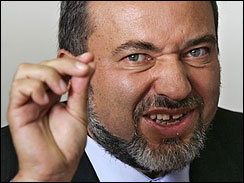 Palestinian officials are now saying that the primary focus of the ICC complaint will be settlement expansion in violation of the Geneva Conventions, and that they are willing to withdraw the complaint if Israel agrees to free the settlements pending further peace talks.
The offer is unlikely to be accepted, as Israel's outgoing far-right coalition has ruled out ever freezing settlement construction again. Israeli officials rather seem focused on trying to punish the Palestinians, by seizing tax money from them.
Foreign Minister Avigdor Lieberman suggested Israel's ire could quickly shift from the Palestinians to the ICC itself, saying they are already lobbying nations to defund the World Court to punish them for allowing Palestinian membership and even considering the complaint.