Two black-hooded men with Kalashnikov rifles entered the offices of satirical French magazine Charlie Hebdo today, singling out cartoonists and writers seen to have insulted Mohammed in the past and killing them. 12 people, including two police, were killed in the attack.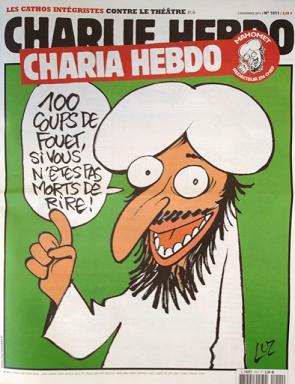 Perhaps most incredibly, the attackers and a possible third getaway driver managed to escape and are still at large and totally unidentified. Videos showed the men spoke flawless French without accent, and one bragged "we avenged the Prophet Mohammed! We killed Charlie Hebdo" on his way out of the office.
Unconfirmed reports from an eye-witness said that one of the gunmen claimed to be from al-Qaeda in the Arabian Peninsula (AQAP), the Yemeni faction, though this was not caught on video, and at any rate might not be the case.
Police are now engaged in a desperate search for the attackers, but with few apparent leads. President Francois Hollande has scheduled a "crisis meeting" for Thursday morning to discuss the incident.
Reports emerged later in the evening of an anti-terror raid in Reims, aiming to capture three people they believe to be "suspects" in the attack. How they are tied to the attack remains unclear.
The attack has fueled condemnation worldwide, and particular shock in Paris, where a large crowd is holding a vigil at the Place de la Republique to support press freedom and the victims.
Last 5 posts by Jason Ditz