Palestinian President Mahmoud Abbas says his government is studying with Jordanian diplomats the possibility of again submitting the statehood resolution which failed to pass last week, for a new vote.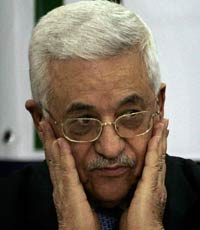 "We didn't fail, the UN Security Council failed us," Abbas insisted, saying he might go for a third or even a fourth vote on the resolution, which calls for an end to the Israeli occupation by 2017.
The Tuesday vote was 8-2 in favor, one short of the nine votes needed. Five nations abstained, with Nigeria by far the most likely to vote in favor of Palestinian statehood.
Even if a future version of the resolution does pass, it is likely the US will veto it, as they did Tuesday. Israel has lobbied heavily for vetoes, and Secretary of State John Kerry reportedly threatened to sanction the Palestinians for even submitting the resolution the first time.