Even though the FBI's allegations that North Korea was behind the hacking of Sony Pictures have long since been discredited, with cybersecurity experts pointing the finger at a group of hackers centered around a disgruntled former employee, President Obama today announced a new round of sanctions against North Korea explicitly in retaliation for this.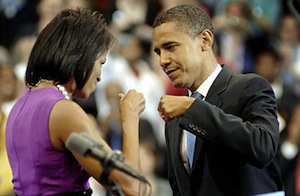 White House officials termed the sanctions the "first aspect" of the president's promised "proportional" retaliation against North Korea for cancelling the release of Sony movie The Interview, a movie which was released at any rate.
The timing of the sanctions suggests there's more than just a botched FBI investigation behind them, however, as the sanctions were announced just one day after both North and South Korea began talking up a summit designed to improve ties between the two.
Whenever North Korea has suggested any sort of rapprochement with the US, it has been dismissed by President Obama out of hand, and this move may be designed to sabotage any South Korean talks, or to at least send the signal that no matter what the Park government decides, the US will remains hostile to North Korea.