A Saturday incident in which a gunmen killed a pair of NYPD officers in Brooklyn has sent the department, the nation's largest into a flurry of panic and outrage, and has police union leaders turning up the rhetoric on anybody and everybody the police don't like.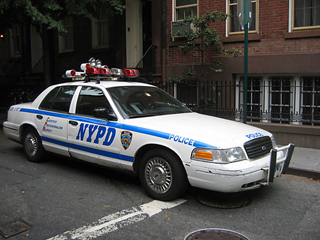 The biggest target appears to be Mayor Bill de Blasio, who ran for office on a platform of ending police racial profiling, and was critical of police in recent slayings. Police are now blaming him for the "anti-police" sentiment that led to the weekend shootings.
Police made a point of publicly turning their backs on de Blasio during his statement over the shootings, and union leaders urged police to use "extreme discretion" in acting against enemies in City Hall.
The police seem to be moving away from the traditional city-run law enforcement branch and toward an independent, and heavily-armed, faction which feels it can unilaterally act, or refuse to act, as it sees fit.
To that end, police leaders are telling police that their top priority is "to ensure the safety of yourselves and your officers," and that they should avoid making arrests "unless absolutely necessary."
The detectives' union is urging police to travel in threes, and to wear bulletproof vests at all times, while other police union leaders are talking up the idea that they are a "wartime" police department on a military footing.
The "enemy" in this war is clearly the public protesters critical of past police killings of unarmed civilians, and police demanded that all protests against them be halted for the time being.