Speaking today at Fort Dix, President Obama promised that the US would allow ISIS no safe haven anywhere on earth, pursuing them militarily anywhere and everywhere.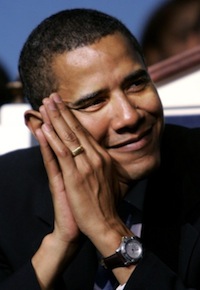 "Our coalition isn't just going to degrade this barbaric terrorist organization. We're going to destroy it," Obama insisted, praising the ongoing attacks as "hammering" ISIS.
Obama once again talked up a long war, saying America's "reach is long and we do not give up," and that the US would eventually wipe out ISIS. He offered no timeline on how long that would take.
At the same speech, Obama played up the "end" of the combat mission in Afghanistan this month, not mentioning that he has already approved the continuation of US combat operations in Afghanistan through 2015. He did, however, concede that Afghanistan is "still a dangerous place."