Al-Qaeda linked factions have seized two major Syrian Army bases in the Idlib Province today, further increasing their control over the nation's northwest, which they have been consolidating both against more secular rebel factions, and now the military.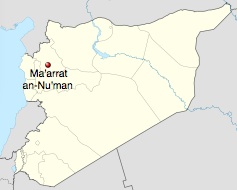 Jabhat al-Nusra seized the Wadi al-Deif base today after forcing the military to withdraw from its remaining checkpoints. 31 soldiers and 12 Nusra fighters were reported killed.
The nearby base of Hamidiyeh fell later in the day to Ahrar al-Sham, another Islamist rebel group which claims ties to al-Qaeda, forcing Syrian troops to withdraw yet again to the village of Bsida.
The loss of the two bases is potentially huge, as it gives the rebels control of the area around the town of Maaret al-Numaan, a strategically vital town along the major north-south highway in Syria.
Maaret al-Numaan was a major contested site earlier in the civil war, but it was eventually retaken by the Syrian military. With Syrian forces nearly surrounding Aleppo, the loss of the town could make it harder for them to reinforce from the south.