In a move which experts see as timed specifically to embarrass Russian President Vladimir Putin just hours before his State of the Nation address, Islamist militants have launched a major siege in the center of Grozny, the capital of Chechnya.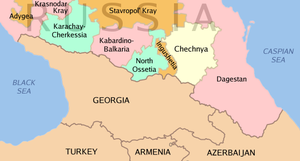 The attack began with a strike on traffic police, and moved on to sack the 10-story Press House, the home of the local media, and started a fire which spread to a nearby market.
12 hours of fighting later, the reports are that the 10 Islamists involved were all killed, as were at least 10 police officers. Civilian casualties were not reported but dozens of others were reported wounded.
Chechnya sought to secede during the split-up of the Soviet Union, but was blocked on the grounds that it was not considered an independent entity during the Soviet-era as other states that split off had been. This led to decades of on-again, off-again war.
Though Chechnya was formally reintegrated into the Russian Federation in 2003, many Islamist factions in the Muslim-dominated region continue to oppose its status, and continue to fight to try to break the Chechen Republic out of the Federation.