Months of fighting over the key north Syrian border town of Kobani (Ayn al-Arab in Arabic) continue, but ISIS seems to be getting a more decisive advantage by the moment, with Kurdish officials saying the town is now totally surrounded.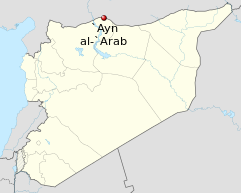 In addition to the usual raids from the south and the east, where the bulk of ISIS forces are located, smaller raids were reported from the west, and perhaps more disturbingly, the north, where the Turkish border lies.
Kurdish officials say that the ISIS fighters attacked the border crossing with Turkey, and that ISIS fighters were coming in from the Turkish side of the border. Turkey is denying that the ISIS fighters were ever inside Turkey, but did confirm the border crossing was bombed.
The incident fueled speculation among Kobani's Kurdish fighters that Turkey is cooperating with ISIS on the siege, which seems to be exactly what ISIS intended. At the same time, Kobani itself is a bit off the border, so it is possible that ISIS is sending forces up into the area around the border crossing to make it appear as if they're coming from Turkey, or simply to block off reinforcements.