Underscoring exactly why the eastern Ukrainian Civil War still hasn't been resolved, the Ukrainian government today reiterated that it will never directly negotiate with the eastern rebels.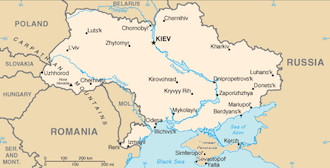 The comments were a response to Russian FM Sergey Lavrov urging the two sides to hold talks to reach "mutually acceptable agreements." As usual, they included angry condemnations of Russia.
Ukrainian Premier Arseniy Yatsenyuk insisted the call for talks amounted to Russia trying to push Ukraine into recognizing the rebels' legitimacy, saying it was tantamount to 'legitimizing terrorists.' He went on to condemn the rebels as "Russian mercenaries."
Lavrov said that talks without the rebels were "counterproductive" and criticized Ukrainian hawks looking to exclude them from any potential peace deal.