Eastern Ukraine's Donetsk and Luhansk Oblasts have held an election to establish the leadership of the autonomous People's Republic of Donetsk (DPR) today, and exit polls point to a decisive victory for top rebel leader Aleksander Zakharchenko.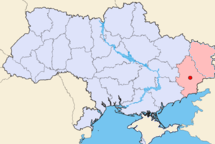 The polls showed Zakharchenko, the interim premier of the DPR, will win the presidency with over 80% of the vote. His party is also expected to win a strong majority of the DPR parliament.
Zakharechenko campaigned heavily on a platform of independence from Ukraine, saying he believes the DPR could become a prosperous nation along the lines of the United Arab Emirates if it were free to tap its coal and natural gas reserves for exports.
The US loudly condemned the elections, saying they are "illegitimate" and that they will never recognize the result. The lack of recognition does not appear to be a significant obstacle, however, as the DPR isn't at present heading toward outright secession or seeking US recognition for that.