Yesterday's announced settlement expansions in occupied East Jerusalem could be dramatically widening a rift between the US and Israeli government, with Prime Minister Benjamin Netanyahu blasting US criticism yesterday as "disconnected from reality."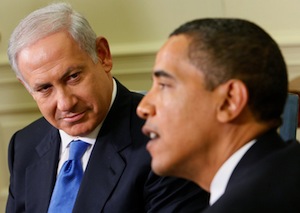 Today the gloves seem to be off, with an unnamed "senior US official" lashing Netanyahu as a "chickenshit" who is unwilling to make any accommodations for peace and "the only thing he's interested in is protecting himself from political defeat."
Israeli Economy Minister Naftali Bennett, who condemns Netanyahu as a coward at least a couple of times a week, demanded that the Obama Administration publicly repudiate any criticism of Netanyahu, insisting that he is the "leader of the Jewish state and the Jewish world." Bennett went on to claim Obama plans to "throw Israel under the bus."
Public criticism of Israel, once unheard of, is now increasingly common among US officials, who are clearly losing patience with Israel's policy of undercutting the peace process every chance it gets.
Whether that's going to mean an actual change in US policy beyond the rhetoric remains to be seen, but we may not have to wait long as the UN Security Council is holding an emergency meeting over Israel's settlement expansions.
Israel normally counts on the US to veto any UN Security Council resolution even a little critical of its settlements, even if the statements are mirrored in public US comments. Yet as the split widens, the administration may not feel it owes Israel a veto.