A suicide car bomb in Radda killed 20 Houthi fighters today, bringing the three-day toll from the Houthi battle to take the town over from al-Qaeda allies to 250 killed.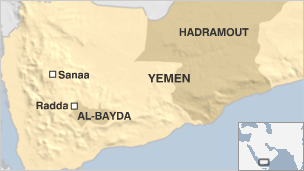 Radda is the homeland of the powerful Qifa tribe, a Sunni tribe, and the Shi'ite Houthis' expansion into their territory has them, and the powerful al-Qaeda in the Arabian Peninsula (AQAP) presence, up in arms in a big way.
"We will turn Qifa lands into an area of mass graves for them," said one of the insurgent leaders of the Houthi expansion. Since taking the capital city, the Houthis have expanded south along the Red Sea coast and are now moving inland.
Though it's hard to imagine the Houthis successfully expanding much farther alone, they are getting artillery and air support from the Yemeni military now, and with plans to add Houthi leaders to the new Yemeni cabinet, they are increasingly a force to be reckoned with beyond their homeland along the Saudi border.