Plans for Iraq's Kurdistan Regional Government (KRG) to send some 150 Peshmerga fighters to the Kurdish town of Kobani (Ayn al-Arab in Arabic) could be greatly complicated today, as ISIS turned some of its focus on attacking the border crossing nearest Kobani.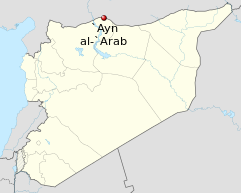 Kobani is being defended by various Kurdish militias which have been bringing in fighters from Turkey, and Turkey intended to help the Peshmerga make the crossing soon.
ISIS, by contrast, is getting its own reinforcements from inside Syria itself, and doesn't have to deal with border crossings or traveling long distances to get more fighters into the Kobani area.
ISIS has been pushing toward Kobani for over a month, seizing hundreds of villages in the surrounding area and making its way to the key border town. Kobani is the last Kurdish territory west of ISIS' caliphate, and the loss of it would mean ISIS would have an uncontested span of border with Turkey nearly to Aleppo.