Reports coming out of the Syrian Kurdish border town of Kobani (Ayn al-Arab in Arabic) claim that ISIS fighter Abu Mohammed al-Amriki was slain in fighting with the YPG militia.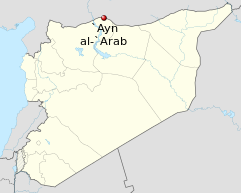 Amriki had featured in ISIS videos for months as an "American jihadist," though his heavy North African accent raised doubts about where he is actually from.
Reports about Amriki's death cite YPG officials as claiming he was killed in the Sunday fighting around Kobani, though as yet ISIS has not confirmed that he was actually killed.
Speculation about the number of ISIS fighters from the United States has varied wildly. Amriki was said to have initially gone to Syria and joined al-Qaeda's Jabhat al-Nusra before switching sides to ISIS.