ISIS has held large portions on the Anbar Province since January, but in recent weeks has been pushing their advantage, drawing ever nearer to Baghdad and also seizing valuable towns along the way.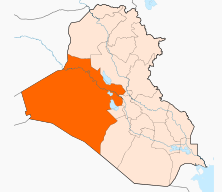 The losses in Anbar, which has seen major Iraqi army bases overrun, have reached the point where ISIS is on the cusp of controlling it outright, with the remaining outposts of Iraqi central government rule falling at an alarming rate.
Locals are complaining that the Iraqi military hasn't shown itself to have an answer to the ISIS gains, and are complaining the provincial police force seems to be the only one fighting ISIS on the ground.
Whatever the reason, the loss of what remains of Anbar would be a huge psychological blow to Iraq, as the province makes up roughly a third of Iraq's overall area. Between that and ISIS' holdings in Nineveh, Diyala, and Salahuddin, they have cobbled together a large, contiguous territory in Iraq, and one which borders its similarly large territory in Syria.