Earlier this morning, Ukrainian forces shelled a school playground in the rebel capital city of Donetsk, killing at least 10 people, one of whom was identified as a rebel fighter, and the others all civilians.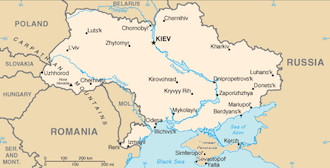 The attack occurred shortly after the school-day began, so none of the students themselves were at the playground at the time. The school's biology teacher, along with one of the students' parents, were among the slain, however.
The Ukrainian military, as usual, inexplicably claimed that the rebels had launched the attack, on a school in their own territory, while the rebels insisted that the military was targeting their fighter, and that the death toll was higher, with two other unidentified victims among the slain.
It's the second incident in Donetsk this week, after nine soldiers were killed in a clash with rebels on Monday near the airport. Despite this, the ceasefire continues to hold across much of the nation.