The influx of refugees into southern Turkey from the Kurdish border town of Ayn al-Arab (aka Kobane) grew once again today, with tens of thousands more fleeing as ISIS continues to near the town itself.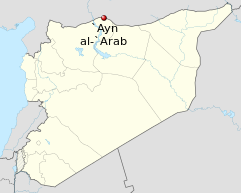 ISIS began its latest push over a week ago with villages in the vicinity, and as of last night were around 5 km from Ayn al-Arab. Today, Kurdish officials report they are less than 3 km away, and continuing to advance.
Kurdish factions are claiming some minor gains along the Iraq/Syria border, but loses are mounting over the strategically and psychologically important town of Ayn al-Arab, with the PKK-led Kurds pushing for more aid.
Saleh Muslim, a top leader in the PKK's political wing, claims that the US and other nations have rebuffed aid claims because of Turkish opposition, and claims the town will face a massacre if they don't get more arms. With more than 150,000 having fled to Turkey already, it isn't clear how many civilians are even left to massacre.