Syrian rebels say that the US airstrikes on ISIS inside Syria haven't helped them. If you're wondering who is benefiting, the answer could well be ISIS.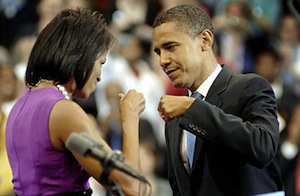 Since President Obama announced his intention to strike Syria on September 10, ISIS has gained more than 200 new fighters in Aleppo Province alone. That's likely a drop in the bucket compared to what it did for recruitment in provinces where they have a larger presence.
The US couldn't be following the ISIS map more closely if they planned it, as the group is building itself up into a larger and more influential faction primarily on the credibility it gets from being a top US enemy right now, moreso than the territory it gained in the past year.
The administration's answer to ISIS growing increasingly influential has been to hype them even further, and present them as a new, global enemy that needs to be wiped out through force of arms. Unsurprisingly, that has made many of the people in the line of fire of America's newest war stand up and take notice, and is bringing a lot of them to ISIS, where they can resist the incoming US attacks on their homes.