Yesterday's loss of 21 Syrian Kurdish villages has been greatly compounded today, with monitors now saying 60 villages have been withdrawn from by Kurdish forces amid the latest ISIS push toward Ayn al-Arab.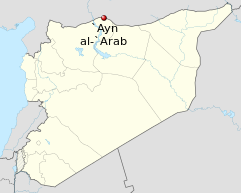 Kurdish officials confirmed that ISIS is using US-made artillery and tanks in the new push, and has turned much of the Kurdish-held part of Aleppo into a warzone. Though they would not confirm number of villages lost, one Kurdish official did say about 100 villages have been evacuated of civilians because of the fighting.
ISIS has tried to capture the important city of Ayn al-Arab several times in the past. It is along the Syria-Turkish border and would expand their number of border crossings, though the Kurdish factions in Syria have put up a tough fight, courting Turkish Kurds to join the battles to defend the city.
Having successfully taken all of Raqqa and Deir Ezzor Provinces, ISIS is keen to expand into the neighboring areas, and is mostly pushing against the remaining Kurdish territory in the north right now, as the also try to expand territory in central Iraq.