The British government has raised its terror threat from "substantial" to "severe" today, saying it was a response to "what we're facing in Iraq now." Officials said there was no specific threat.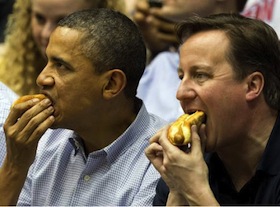 The British government was quick to insinuate itself into the new US war in Iraq, saying their campaign is going to "last weeks and months." As with the US involvement, Britain's involvement is greatly increasing their profile as a potential retaliatory target for ISIS.
The US insists there is no plan to change their own terror threat level since their own attacks on ISIS began, but the White House did say that Britain's situation is "not dissimilar" to the United States.
Before the US involvement began, officials were classifying ISIS as a primarily "regional" threat, interested mostly in fighting over Syria and Iraq territory, as opposed to launching strikes abroad. The new international intervention has both raised ISIS' profile for recruitment and given them a specific reason to target Western sites, instead of focusing on the regional war.
Concurrent with the move, Prime Minister David Cameron announced the new power to revoke the passports of anyone believed to have fought alongside ISIS in the past. Implementing the move may be difficult, for while Britain is known to have a substantial number of ISIS fighters, their identities are by and large unknown.