It wasn't so long ago that the Ukrainian military was treating the eastern war as a done deal, mopping up with an eye on the last two rebel cities. A counter-attack is changing that, and the war is again expanding into the southeast.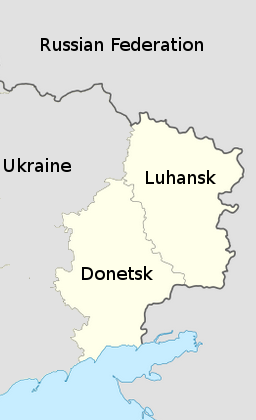 The fighting along the southeastern coast saw rebels taking control of the strategically important port town of Novoazovsk. In addition to giving the secessionist rebels a port, it is along a key highway linking neighboring Russia.
News of the port's loss, along with leaked videos of fighting, have fueled new protests among western Ukrainian nationalists, who are clamoring for the military to escalate the war to crush the mostly ethnic Russian easterners.
The east-west divide has long defined Ukrainian politics, and the push for eastern secession, as well as calls by westerners to wipe out eastern resistance, has turned that long-standing dispute into a full-fledged war.
Interim PM Arseniy Yatsenyuk claimed that "practical help" is coming from NATO. Exactly what that means is unclear, though there has been talk of sending weapons to the Ukrainian military to aid in the crackdown.