Claiming the Ukrainian government was deliberately dragging out the delivery of 280 trucks full of humanitarian aid, stalled in customs at the border with Russia, Russian President Vladimir Putin ordered the convoy to go in irrespective of Ukraine's wishes, and deliver aid to the civilians trapped in the eastern Ukraine warzone.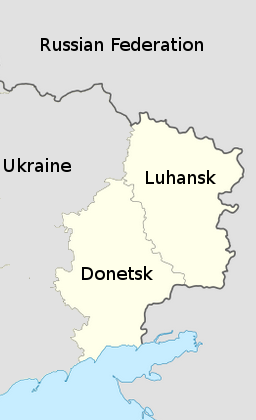 Reports out of Russia say that part of the convoy arrived in the sieged border city of Luhansk, setting up aid centers across the city, delivering food, water, medication, and even some electrical generators to the city. The rest is headed further south, to the largest city of Donetsk.
The Ukrainian government is calling the deployment of the humanitarian aid a "direct invasion" by Russia, and is demanding an immediate withdrawal of all the trucks as well as all of the supplies they brought in.
Ukraine initially made a deal with the Red Cross to bring aid in weeks ago, but reneged with the Red Cross made a deal with Russia to provide much of it. Since then, the Red Cross had been trying to work out a deal to bring the aid in themselves, but were not able to get Ukraine's assurances that their aid trucks wouldn't be attacked.
The US angrily condemned the Russian aid shipment, declaring the dispatch of food and medicine a "flagrant violation of Ukraine's sovereignty," and threatening new sanctions on Russia if the aid isn't withdrawn immediately.
Russia's UN Ambassador lashed Ukraine over the delay, accusing them of playing politics with the aid, and saying that with no chain of command in Ukraine to work with Russia had no choice but to send the aid in unilaterally. Ambassador Churkin also criticized Lithuania, the member of the UN Security Council which called an "emergency meeting" today over the aid shipment.
Britain claimed that no member of the UN Security Council supported the Russian move, though Russia says China has backed the decision, owing to the delays, and also got expressions of support from unnamed Latin American members.