Ukrainian forces attacked the rebel city of Luhansk today, with locals reporting heavy shelling across the city and the military making a point of raising their flag over a police station they took in the fighting.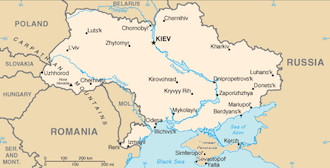 Raising the flag may be a bit premature, as the rebels continue to control much of the city, and shot down a Ukrainian MiG-29 earlier today over Luhansk, one of their few important remaining strongholds.
As the easternmost provincial capital, and just a few miles from the Russian border, Luhansk is a particularly strategically important site, allowing rebels access to the border and giving civilians a corridor through which to escape.
Rebel leaders continue to insist that they are close to launching a counter-offensive. The indications right now are that the military has the advantage, however, and as the fighting nears the heavily populated cities, the crisis is only growing.